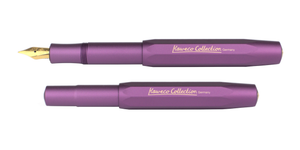 The Kaweco AL Sport Fountain Pen - Vibrant Violet edition is a limited edition. It takes international standard short cartridges, including Kaweco ink cartridges. Other accessories such as pen clips and cartridge converters can be found here.
As early as 1905 Kaweco had already manufactured the first writing instruments made out of metal. Products which were made out of silver or gold plated brass in the past, are made from aluminum today.
High-quality aluminum is processed by CNC-techniques and other processes in order to obtain a satin finish and hardened surface.
Nib: Steel
Body: Aluminum
Ink Cartridge Size: International Standard Short