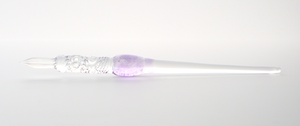 SOURIRE is named after the French word for "smile" and is the glass studio run by artist Rika Suga. Each Borosilicate glass pen is a one-of-a-kind work handmade in her studio in Nagano Prefecture, Japan.

The Icicle series features a burst of color at the widest portion of the pen body.
Material: Glass
Length: 16cm (6.3in)

Section Diameter: 10mm (0.39in)
Box Included
Handmade in Japan
Glass Pen Precautions and Use Instructions:

This pen is made of borosilicate glass which has excellent abrasion resistance, but the nib is still delicate. Please be careful of impacts caused by dropping or strong pressure.
Lightly wash off the ink from the nib after use. If the ink dries in the groove, it may affect the writing quality of the pen. If ink remains in the nib, use a toothbrush or a similar tool to clean it.
Dip the nib of the pen about a third to halfway into the ink before writing. Be careful of ink dripping due to excessive immersion.
Turn the pen from time to time while writing to evenly use the ink which is in the grooves of the nib. This will allow for longer writing.
When writing, tilt the pen slightly to allow the ink to flow more smoothly.
As this is a glass product, please handle with care.
For information on repairs, please contact us for more information.